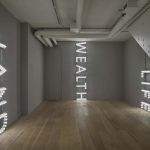 Tuesday 15 May – Saturday 7 July 2018
East Gallery at Norwich University of the Arts is delighted to exhibit work by Nathan Coley, a Glasgow-based artist whose work examines the nature of belief in our society through a range of media.
His gallery based work and interventions in public space seek to explore our relationship with sacred and secular architecture, signage and protest, exploring systems of faith and how these are represented and demonstrated.
The exhibition presents two major works by Coley, Unnamed, 2012 and Palace, 2015 at East GalleryNUA and St Laurence's, a deconsecrated church on St Benedict's Street, Norwich.
These two works give audiences the opportunity to experience Coley's work in contrasting locations and consider the meeting of contemporary and ancient belief systems in the medieval heart of Norwich.
Nathan Coley's work is in collections in the UK and abroad and he has received a number of major commissions for institutions and events worldwide. He was shortlisted for the Turner Prize in 2007 and is currently working on a major commission for the cathedral of Lund in Sweden.
An exciting events programme accompanies the exhibition, including workshops for schools and evening events, providing the chance to experience the light works at dusk.
Nathan Coley will lead a tour of the exhibition and artist talk at East GalleryNUA on Tuesday 15 May 2018, the first public day of the show. Places are limited and can be booked by contacting the gallery.
Nathan Coley
Palace, 2015
Installation, Nathan Coley, Parafin, London 2017
©studioNathanColey
Watch a film about Nathan's work at East Gallery and St Laurence's Church