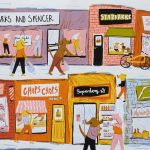 Explore the Norwich University of the Arts 2023 Graduate Showcase
Explore the Norwich University Graduate Showcase
In 2020 we launched the Norwich University of the Arts Graduate Showcase, where graduates' work is presented internationally through an inspiring digital portal. The Norwich Showcase has been visited by users spread throughout 147 countries!
Our online immersive experience reveals final student work — from Fine Art, Architecture, and Fashion, to Film, Animation, and Photography, to Graphic Design and Games.
The 2023 Norwich Graduate Showcase includes multiple award-winning student works.
Discover where creative curiosity has taken hundreds of talented artists, designers, and makers at Norwich University of the Arts in this year's online Graduate Showcase.
The 2023 Graduate Showcase is live soon
Explore the Norwich University of the Arts Graduate Showcase
Grad Fest 2023
Norwich's biggest exhibition of art, design, architecture, and media.
Norwich University of the Arts 2023 graduates presented their end of year show, a week-long physical exhibition across four of our main campus buildings.
This was an exciting exhibition of work from a new generation of fresh talent — an excellent opportunity for the public, employers, and our graduates alike.
Student work credits
The following students' work featured in the promotional campaign for the 2023 Graduate Showcase
Clara Mukasa, BA (Hons) Fine Art
Joseph Corlito, BA (Hons) Fashion Communication and Promotion
Tay Morgan, BA (Hons) Photography
Callum Wells, BA (Hons) Photography
Chrysangelos Kougioutas, BA (Hons) Graphic Communication
George Cutler, BA (Hons) Games Art and Design
Christopher Gardner, BA (Hons) Photography
Chloe Lees, BA (Hons) Fine Art
Stuart Riches, BA (Hons) Games Art and Design
Lauryn Lamb, BA Fine Art
Amber Iles, BA (Hons) Animation
Charlie Surlock, BA (Hons) Fashion Communication and Promotion
Luke Burrows, BA (Hons) Architecture
Rachel Cottrell, BA Graphic Communication
Tara Lea, BA (Hons) Fashion Communication and Promotion
Willow Hall, BA (Hons) Design for Publishing
Zoe Brooker, BA (Hons) Fashion
Alison Page, BA (Hons) Textile Design
Iuliia Rozsa Bakacsi, BA (Hons) Games Art and Design
Olivia Heseltine, BA (Hons) Illustration
Chloe Leeder, BA (Hons) Design for Publishing
Caitlin Meier, BA (Hons) Architecture
Henry Gadsdon, BA (Hons) Graphic Communication
Skye Williams, BA (Hons) Graphic Design
Marna Alberts, BA (Hons) Textile Design
Steven Pascoe, BA (Hons) Animation
Engy Jarrouj, BA (Hons) Animation
Juan Murrell, BA (Hons) Animation
Recent Awards
Top 10 for
Teaching Quality
by the Times and Sunday Times 2022
Top Two UK
Creative Arts
University
by The Complete University Guide 2024
GOLD-rated
University
the Teaching Excellence Framework (TEF)