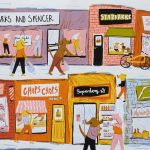 Your health and wellbeing during your studies at Norwich University of the Arts are a top priority for us. To ensure your university experience runs smoothly we offer help and support with a range of educational, practical, personal and financial matters.
Student Support – we're here for you
Students can contact Student Support from Monday to Friday, 9am-5pm by:
Applicants can contact us by emailing support@norwichuni.ac.uk.
For many students, university offers a first taste of independence. Whatever your background, it can be a challenging and sometimes overwhelming experience. Student Support offers information, advice and guidance to any student who needs it while studying at the University.
Staff are available to speak to through confidential appointments or during regular drop-in times, for advice on a range of issues including mental health/wellbeing, student finance and funding, accommodation and disability/medical disclosures including specific learning differences such as dyslexia.
Please note that Student Support is not available on weekends or bank holidays.
Organisations you can contact for support out of hours
Out of hours support
If you are experiencing a life-threatening emergency, please call 999 or go to the nearest A&E department.
Doctors and health services
The National Health Service (NHS) provides health services in the UK and all students are entitled to treatment from the NHS, including Tier 4 visa holders who will have paid IHS fees as part of the immigration process.
We recommend that you register with a doctor as soon as possible after your arrival in Norwich. Please don't wait until you become unwell. The University does not have a Student Health centre, however you can search for NHS surgeries to register with a doctor close to your home in Norwich.
Treatment is generally free of charge, but there are fees for dental treatment and prescription drugs. You may be entitled to help with prescription costs. If you're joining the University from overseas, the NHS provides a useful guide to health services in the UK.
Immunisations and vaccinations
It is good practice for students to be fully immunised in accordance with Department of Health recommendations. We advise that new students check their vaccination status via their GP practice before arrival at Norwich.
Providing medical/disability information to the University
As part of the online enrolment process you'll be asked to complete a medical/disability section. This confidential information is held within the Student Support team and disclosed only with your permission to support your needs while studying at the University.
If you're diagnosed with a medical condition or disability during your studies we ask that you contact us to update your medical/disability status and discuss any additional support you may require. Please use Our Norwich Uni
Counselling
Norwich offers a free, confidential, counselling service for all students, provided by professional counsellors external to the University. Please visit the VLE for further information about counselling
Please note that the Counselling service is not a crisis service and students will be seen by appointment only.
Accommodation
Norwich's Accommodation Office is part of Student Support. Accommodation information is made available online to all students who have accepted an offer during the summer term.
This includes details of the accommodation on offer, how to apply, private accommodation, details of the University's student share list (a list of students looking for accommodation to share with other NUA students), and information on living in the community.
Reporting an incident of sexual misconduct, harassment, bullying, or hate crime to the University
You report, we support
Talk to us
The Student Support office is open all year round for appointments and to take telephone and email enquiries. We run a drop-in service, dates and times are available on our Intranet.
Get in touch via OurNorwichUni or:
Call
Instagram
Norwich University of the Arts
Francis House
3-7 Redwell Street
Norwich
NR2 4SN
Recent Awards
Top 10 for
Teaching Quality
by the Times and Sunday Times 2022
Top Two UK
Creative Arts
University
by The Complete University Guide 2024
GOLD-rated
University
the Teaching Excellence Framework (TEF)