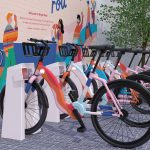 Tuesday 3 September – Saturday 26 October 2019
East GalleryNUA. Free entry: Tuesday – Saturday, 12-5pm
'Revealing Munnings' celebrates the recent conservation of 14 drawings by Sir Alfred Munnings (1878-1959) owned by Norwich University of the Arts. East GalleryNUA Cavendish House St Andrews Street Norwich NR2 4AE
In February 2018, the drawings were exhibited at East GalleryNUA as a way of launching a fundraising campaign to help with their conservation.
Eighteen months later the pieces have undergone treatments by specialist paper conservators and will now form an important part of the Norwich University of the Arts collection.
In this exhibition the collection works will be joined by a selection of other pieces from Munnings' early career, including oil paintings kindly on loan from the Munnings Art Museum in Dedham, Essex.
History behind the exhibition
Between 1893 and 1897 Munnings attended evening classes at Norwich School of Art, as it then was, while at the same time working as a commercial artist for Page Brothers, Norwich, designing packaging for Caley's crackers and Colman's mustard, among others.
He was developing as an artist and in particular discovering an interest in oil painting and in a wider range of subject matter than that preferred by the commercial advertising trade.
Revealing Munnings exhibition
This exhibition focuses on this period of Munnings' development, his emergence as a professional painter and the influence that Norwich School of Art had on this.
Many of the drawings owned by Norwich University of the Arts were examination pieces and so bear the mark 'ESK', indicating that they had been examined under the South Kensington system of art education, established by the Royal College of Art in South Kensington, London.
The casts used in Norwich were based on Classical sculptures and as a result, students learnt to draw from replicas of some of the most important Greek and Roman pieces such as the horse's head from the Parthenon which had such a great effect on the young Munnings.
From drawing casts, students progressed to the life room, first drawing the seated or standing figure and then finally learning to paint in oils.
Munnings' painting of 'The Life Room at Norwich School of Art' is not only an accomplished painting in its own right but also a telling document of the life room in around 1897.
The students are all male and dressed in suits, though the formality of the set-up is not dissimilar to that seen in a life room today.
"…all through the hours of work at lithography from nine till seven I lived only to go on with that splendid horse's head in sepia from seven till nine! The hours spent on it each evening slipped away too fast, but they were not wasted, for I learned all I know of a horse's head from that cast. "
Sir Alfred Munnings
Munnings' Norwich studio
Munnings natural ability for observational drawing and the additional skills learnt in the life room, gave him the tools he needed to start to earn a living from his work.
This was difficult at first, but the support of Norwich Art Circle and the acceptance of two works into the Royal Academy summer exhibitions in 1899.
Munnings set up his studio near Norwich and regularly went out into the countryside around Norwich to paint.
On these trips he was able to indulge his love of painting horses. He was accompanied by a motley crew of ponies. The white pony that often features in these paintings was a favourite of Munnings' named Augereau after a character in a play.
A number of paintings and sketches survive from these days including 'Shrimp and Augereau in Rinlgand Hills' and 'Shrimp on a white Welsh mare'.
Munnings visits to Paris
There was a restlessness to Munnings at this time, however and in 1903 he travelled to Paris to take classes at Julian's Atelier. Having seen works by Manet, Sisley, Pissarro, and realising how innovative they were, he wanted to develop his own technique.
Munnings made a number of trips to Julian's Atelier over the first decade of the 20th century.
He also visited Versailles, and was impressed by huge canvasses of cavalry horses by Aime Morot.
Munnings made several trips to Paris during this time but always returned to Norwich and continued his explorations of the subject matter he loved, horses, landscape and the ordinary people who populated it.
Supported by