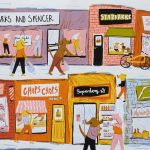 Experiment and explore the broad context and future of textile design as you develop your professional skills and personal style.
Textile Design at Norwich is for the curious, creative student who wants to explore surface, pattern, material, digital and traditional textile processes for interiors and fashion.
As textile designers you are the muse of the fashion industry driving sustainable and ethical agendas and solutions. You will design for environments, body and artefact and be agents of change in how we think about consumption, inclusivity and how we interact with the textiles that we wear and live around every day.
On our BA (Hons) Textile Design degree course you will be unconstrained by specialism, and you can explore a range of disciplines:
Print
Knit, weave and stitch
Dyeing
Fabric manipulation
Surface embellishment
Digital design and making with industry-standard equipment.
You will be encouraged to develop your own unique design language through concept, make and resolution. Taking your personal ways of seeing you will design for different contexts ensuring you are Industry ready, Trend interpretation, design development and professional presentation are key elements of the curriculum.
Career inspiration for textile designers
This freedom in creative practice and emphasis on visual storytelling and narrative has enabled students to win a series of awards including New Designers, Bradford Textile Society and the Angela Houston Constructed Textile Award.
You will develop your commercial and industry understanding through lectures and workshops with textile and fashion industry guests such as Sarah Angold, Sally Ann Wood (Cath Kidston), Lis Cooke, Deborah Bowness, Karen Nicol and Margo Selby.
The breadth of design experiences throughout the course means that Norwich is a source of talent ready for a variety of industries and careers, including:
Fashion
Interiors
Theatre
Conservation
Education
Manufacturing
Your work will gain a wider audience through opportunities for exposure at national and international showcases, competitions and events.
Many of our graduates establish their own businesses or have secured diverse roles in textile-related positions and beyond, including education roles in school and post-16 providers, manufacturing companies, design studios, textile conservation work and costume.
Success in awards
Our graduates are award-winners in the UK and beyond, including the international awards hosted by the Society of Dyers and Colourists, i-Dott wallpaper awards, Bradford Textile Society Awards and The Batsford Prize.
Course information
All courses run as a blend of on-campus and digital teaching and learning, and follow current UK government safety advice. Applicants and students will be notified directly if any changes need to be made.
Typical career paths include:
Textile Designer
Designer Maker
Pattern Designer
Product Designer
Buyer
Stylist Materials Producer
Interior Designer
Researcher
Stationery Designer
Branding Executive
Conservator
Trend Forecaster
Course Information
Institution Code: N39Course 3 Year UCAS code: W231 Course 4 Year UCAS code: W235Course length: 3 or 4 year optionsSandwich courses: Creative Professional Development (1 year, Level 5 diploma), or Creative Computing (1 year, Level 5 diploma), available between years 2 & 3
Recent Awards
Top 10 for
Teaching Quality
by the Times and Sunday Times 2022
Top Two UK
Creative Arts
University
by The Complete University Guide 2024
GOLD-rated
University
the Teaching Excellence Framework (TEF)