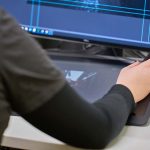 Open for 2024 entry
Be part of the future. Take your digital creativity to a whole new level and equip yourself with the skills necessary for an exciting career in the creative tech and digital arts industries.
Our BSc (Hons) Creative Computing degree course has been developed in response to the digital and creative industries' need for creative graduates with advanced technical skills.
Build skills in coding and software design that are in high demand both nationally and internationally, all while developing your understanding of creative design principles.
The creative industries are changing. The lines are blurring between making and creating in the physical and digital worlds. Whilst many creative people know how to use digital platforms that others have designed, relatively few are able to design and make using coding as their medium.
"Imagine a world where creative practitioners can build the software they need to use for their creative practice"
On this course you will learn about creativity – What do we mean by this? How can computers support creativity? Can computers be creative? – and the coding necessary to build future applications. 
You don't need to know how to code at the beginning: starting with the computational thinking that underpins all computer programming, you will develop practical coding skills by completing a series of carefully constructed projects. For example, applying coding and creative skills to creative web and app work, while thinking about interaction, image and text.
You will also explore data from both open and closed networks: finding patterns in data, learning to use data ethically, and exploring why data can exclude rather than explain.
You will develop algorithmic thinking and more advanced forms of algorithmic programming. For example, being inspired by shapes and forms found in the natural world.
You will also be introduced to artificial intelligence (AI) and machine learning (ML), to support more advanced project development (such as using AI to construct complex visuals and ML to train a computer to recognise facial expressions). Your final year research report and major projects will present significant opportunities for you to develop your very own creative computing specialism, supported by tutors, technicians, and specialist physical resources. These final projects will likely form the centrepiece of your graduate portfolio.
As with all courses at Norwich University of the Arts, your learning experience will be hands-on. You will develop projects to industry briefs and gain an understanding of the potential for – and theory of – computer-based technology in a wide range of digital creative and design sectors.
Your tutors will be experienced industry professionals, grounding you in the technical skills you need whilst supporting the development of your creative and design flair.
Employability and entrepreneurship sessions integrated into your programme will allow you to develop excellent transferrable skills in teamwork, project management, communication and problem-solving; and you will have opportunities to work with digital creative businesses in the University's network.
As a graduate of the course, you will be a creative professional with both strong software development skills and the creative and design skills that have been the bedrock of specialist teaching at Norwich University of the Arts since 1845. Cutting-edge coding skills will unlock a wide range of opportunities for high-quality graduate roles, from creative development, design engineering, mobile app development, and web development, to design projects linked to artificial intelligence and machine learning.
Course information
All courses run as a blend of on-campus and digital teaching and learning, and follow current UK government safety advice. Applicants and students will be notified directly if any changes need to be made.
Typical career paths include:
Creative developer
Design engineer
Mobile app developer
Web developer
Audio/visual researcher
Course Information
Course length: 3 yearsSandwich courses: Creative Professional Development (1 year, Level 5 diploma), or Creative Computing (1 year, Level 5 diploma), available between years 2 & 3
Typical UK offers
A / AS Levels – GCE
3 A-level qualifications at grades BBB.
A-levels including Art & Design/Design Technology/Computer Science/Maths/Physics/Psychology are encouraged, but not mandated.
Where candidates are not taking 3 A-levels, NUA will consider combinations of A-level/AS-level and other Level 3 qualifications. 
GCSE
Minimum five GCSE passes including English at grade C or 4 and Maths at grade B or 5
BTEC Extended Diploma (QCF or RQF) 
Distinction, Merit, Merit in Computer Science/Computing; Creative Digital Media; Creative Media Production
BTEC Diploma (QCF or RQF) 
Distinction*, Distinction in Computer Science/Computing; Creative Digital Media; Creative Media Production
T Levels
A T Level in any subject with overall grade Merit or above
UAL Extended Diploma 
An overall Merit in a related field 
Access to Higher Education Diploma (Art and Design) 
Pass in Computer Science/Computing or a creative field 
International Baccalaureate Diploma 
A minimum of 27 points 
NUA welcomes applicants of all ages from all backgrounds. Your application will be assessed through responses to questions asked as part of the application process and your personal statement — as well as your qualifications — so even if you have no formal qualifications or do not meet our typical offers it can still be worth applying. 
If you are studying at the time of your application and your application is successful it is likely that you will receive a conditional offer. 
If the qualification that you are studying is not shown, do not worry as we are able to accept other pre-entry qualifications as well as combinations of different qualifications. Please do contact our Student Recruitment Team if you have any queries. 
BSc (Hons) Creative Computing portfolio degree guidance
Your portfolio should be relevant to this course, but you can include a wide range of work that shows your technical competence, creative problem solving, industry awareness and career aspirations.    
You may wish to include some of the following:         
One or two games or game elements created using any software

A coding project that you've undertaken (any coding language is accepted)

Sketches, interface diagrams or prototypes that demonstrate your design skills

A short piece of critical writing (ideally a game analysis, critical review or 'post-mortem')

 

Demonstrations of problem solving (sorting glitches)

Examples of experimental collaborative projects (such as attending Game Jam events)

Details of any relevant placement or work-related experience you may have participated in.
2023/24 University fees for new entrants
Norwich University of the Arts will assess students' tuition fee status using the guidance provided by the UK Council for International Student Affairs
Students from the UK or Ireland and EU students with 'Settled' or 'Pre-Settled' status will be charged 'Home' fees if they meet the relevant residency requirements.  They will usually be eligible for a tuition fee loan from the UK government, meaning that they won't have to pay Norwich's tuition fees upfront.
Students who do not meet the necessary residency requirements will usually be charged 'Overseas' fees and will not be eligible for the UK government tuition fee loan. Since 2021/22, this includes new entrants from the EU, EEA, and Switzerland who do not have 'Settled' or 'Pre-Settled' status, because the UK has now formally left the EU.
| Fee status | Course | Annual fee |
| --- | --- | --- |
| Home | Undergraduate degree (full-time three and four year degree) | £9,250 |
| Overseas | Undergraduate degree (full-time three and four year degree) | £18,000 |
For Home undergraduate students starting in 2023, inflation may be applied to your fees in later years, if the UK government were to increase the fee cap beyond the current limit of £9,250 per year. If such an increase were to apply, we would confirm this in advance to you of each academic year, and we would limit the increase to the maximum allowed by the Office for Students.
For Overseas undergraduate students starting in 2023, inflation will be applied to your fees in later years. We will confirm this in advance to you of each academic year, and we will limit the increase to no more than the Office for Students' recommended inflationary measure, which is RPI-X. RPI-X is calculated by the Office for Budget Responsibility. In setting fees for the following year, we will use the Office for Budget Responsibility's RPI-X forecast for quarter 3 of the relevant year.
See our Fees and Funding page for further information which is also available in a downloadable format.
Financial support for UK students in 2023
Tuition fee loans and loans for living costs are usually available to UK and some EU students, as well as non-repayable Norwich University of the Arts bursaries based on family income. Find out more about applying for funding.
All students have an opportunity to spend a year, between the second and third year of their course, enhancing their employability options through a Level 5 Diploma.
These courses are offered in Creative Professional Development; a structured programme of input sessions and work-based learning, and Creative Computing; designed to build the foundation skills in coding and software design that are in high demand in the digital and creative industries.
Recent Awards
Top 10 for
Teaching Quality
by the Times and Sunday Times 2022
Top Two UK
Creative Arts
University
by The Complete University Guide 2024
GOLD-rated
University
the Teaching Excellence Framework (TEF)